Apple will ditch the Lightning connector on its iPhones, the company has confirmed, after European regulators decided all smartphones should have USB charging as standard in two years' time.
New EU rules require all phones sold after autumn 2024 to use the USB-C connector for their charging ports. The oval-shaped plugs are already standard on other consumer electronics such as e-readers, games consoles, laptops and the vast majority of new Android phones.
Apple has already switched much of its product line over to the standard, which can send up to 240W of power and 40Gbps of data over the same cable. Its first laptop to use USB-C to charge was the 12in MacBook in 2015, while iPads began switching from the Lightning connector in 2018.
But the company had pushed back against requirements to switch its phones to the standard, saying that "strict regulation mandating just one type of connector stifles innovation rather than encouraging it, which in turn will harm consumers in Europe and around the world".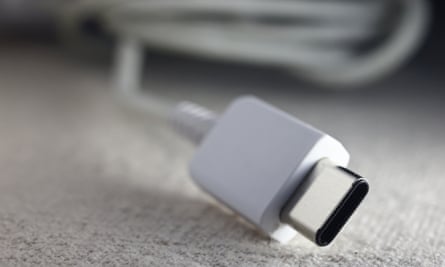 Defenders of the Lightning connector have cited its smaller size, and the vast array of Lightning-based adapters and accessories owned by users around the world. The need to replace those cables could lead to a spike in e-waste, despite the stated goal of the regulation being to reduce discarded electronics
Now, Apple's head of marketing, Greg "Joz" Joswiak, says the company is conceding defeat. "Obviously we'll have to comply, we have no choice," he told a technology conference in California.
But, he argued, it "would have been better environmentally and better for our customers to not have a government be that prescriptive".
Joswiak refused to answer questions on timing, or on whether the company would attempt to make USB-C iPhones an EU exclusive. Given the company's annual release schedule for iPhones, however, it is likely that either the iPhone 15, expected in September 2023, or its follow-up, expected in September 2024, will be the first to have the connector. "The Europeans are the ones dictating timing for European customers," Joswiak added.
There can be no more hiding, and no more denying. Global heating is supercharging extreme weather at an astonishing speed, and it's visible in Kenya and beyond. Guardian analysis recently revealed how human-caused climate breakdown is accelerating the toll of extreme weather across the planet. People across the world are losing their lives and livelihoods due to more deadly and more frequent heatwaves, floods, wildfires and droughts triggered by the climate crisis.
At the Guardian, we will not stop giving this life-altering issue the urgency and attention it demands. We have a huge global team of climate writers around the world and have recently appointed an extreme weather correspondent.
Our editorial independence means we are free to write and publish journalism that prioritizes the crisis. We can highlight the climate policy successes and failings of those who lead us in these challenging times. We have no shareholders and no billionaire owner, just the determination and passion to deliver high-impact global reporting, free from commercial or political influence.
And we provide all this for free, for everyone to read. We do this because we believe in information equality. Greater numbers of people can keep track of the global events shaping our world, understand their impact on people and communities, and become inspired to take meaningful action. Millions can benefit from open access to quality, truthful news, regardless of their ability to pay for it.